Hello readers~~
This round I'm going to share with you guys my Airbnb experience in Singapore.
It was my first staycation in Singapore after moving in to this island.
I was searching for a good place to have a staycation since it was a birthday celebration for him.
And I found this place!
A one-room studio that suits for couple.
Let me introduce you this great stay by the host, Mr. Alan.
This is a condo located at Hougang area,
you may take bus 102 from Hougang MRT and it's just a few stops away.
I like the quietness here but pretty convenient.
There are NTUC Foodfare, NTUC Fairprice and Texas Chicken opposite the condo.
It is a urban suite with a nice renovation customized for visitors who are looking home-feeling during their stay in Singapore.
I like this piece of movable wall.
It is a piece of wall for dining hall and it is also a partition for the bedroom.
Don't you think those quotes hanging on the wall are awesome?
The other amazing part of this condo is the movable door for kitchen!
It can cover the electric stove and allow some space while it's closed.
Meanwhile, it can open widely while using the electric stove.
Another bonus point, the super HUGE TV!
Sitting in the living room and enjoying the movie with a glass of wine, it was a great night after all.
Other than that, Mr. Alan was kinda enough to share with us his excellent TV and audio set.
He is a great host who taught us steps by steps on how to use the TV set.
The host even got this for his guests, a whole new set.
Do you know why I know it's meant for guests?
It's because the host have never use this before, he didn't know exactly how to operate this.
But, we are glad that he shared with us on the user manual which is pretty useful.
Looking at this, I thought I was in some kind of English cafe.
I could see myself enjoying high tea, and enjoy the view outside the curtain.
Not high tea, but breakfast worked too!
It was a great morning started off with a nutritious breakfast, to kick start my vacation day.
There is a small wardrobe built-in for the bedroom, with a full-length mirror inside.
By the way, did you spot the trick in this bedroom?
The bed can actually be kept if it's not used.
Cool~~~
Other than pillows were being prepared, towels were also ready for us.
The bed was just nice for me, who often have some backache issues, not too soft nor hard.
What's nicer than reading before sleep?
It helps a lot when I have sleepless night.
The bathroom wasn't very big, but everything was made ready for the guests.
Hair dryer, toiletries and shower gel were all ready.
The greatest thing is, they have a big piece of mirror!
Ladies, mirror is a must for us, isn't it?
It's not the only highlight here, there's another uniqueness in the bathroom.
This is the one I mentioned!
Jacuzzi kind of shower facilities!
It comes with 4 shower types with massaging functions, very relaxing.
Cheers! Hope my dear enjoyed the stay here and his belated birthday celebration.
How can I not prepare Singapore's famous dish for him?
Oh my! Actually is my favourite, Chili Crab! XP
If you were to ask for my ratings, here is mine:
House: 5 stars out of 5 - Everything is ready in good condition
Ambient: 5 stars out of 5 - Very relaxing and warm feeling.
Facilities: 5 stars out of 5 - All facilities are ready for guest's use.
Host: 5 stars of out 5 - Alan is very friendly and patient host
Price: 5 stars out of 5 - Great value for money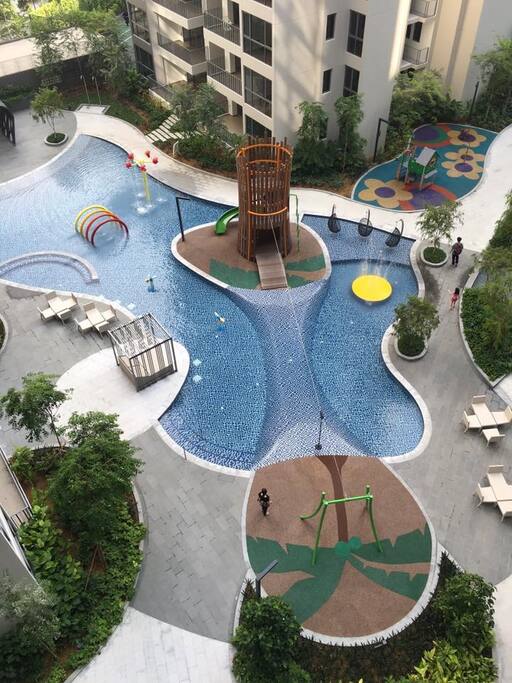 Source: Urban Studio Suite @ Airbnb
Oh ya, did I tell you they have a great swimming pool?
It was a regret that I did not manage to enjoy the pool due to bad weather.
If you are interested to find a good accommodation in Singapore,
don't feel hesitate to check them out!
You may also get up to SGD85 of travel credit via my link:
Don't miss it!